7 Reasons Why People Leave Your Website
How can you maximise the sales potential of your website and convert more of your visitors into paying customers?

T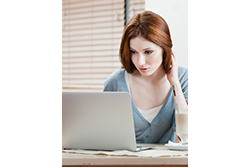 he short answer is to get them to stay on your site for longer. The psychology of a consumer is much the same on the Internet as it is in person in a 'real' shop where the general rule of thumb is 'the longer they stay the more likely they are to spend'.
There's something about the human psyche that makes us feel as though we owe something to a store we've spent a long time browsing or to an employee who's spent a lot of time explaining different options or services to us. The same can be said for visitors to your site. The longer they spend on your website the better chance you have of turning them into customers.
Here are 7 reasons people are leaving websites too soon after landing to be converted:
Speed
Today's average internet user has a short attention span so won't wait around for a slow loading site.
We live in an instant world where patience is almost a forgotten relic of a time set in black and white. Billions of dollars in micro-transactions are lost each year in stores worldwide as consumers lose patience and either take their business elsewhere or lose the impulse for their spontaneous purchase. The same is happening with your potential customers if you have a crawling website.


Inconsistent copy
Nothing quite encourages potential customers to leave a website like ubiquitous content except, perhaps, inconsistent copy. Professionally scripted copy can help with this and can be the difference between someone staying on your site or not. If you don't already employ someone in marketing or engage with an external contractor to write your copy then you should start. Otherwise you could just be confusing your visitors into never becoming customers.


Design
First impressions matter. You can't convey your message to your target audience if they don't stick around long enough and the design of your brand determines how long they'll give you to hook them. So if your site looks outdated then your visitors will quickly lose interest in your business.
Your website is the online gateway to your business and an extension of your brand and should reflect the quality of your company. As such, good design should be a top priority as that's what will keep your audience captivated and more likely to convert to customers.
We're a visual species and if your website is found lacking that will explain why a lot of your visitors aren't converting.


Call to action
What is the point of creating a great website if you don't give your customers a reason to use your company? A carefully crafted call to action should form the fundaments of your content creation but research suggests that as many as 4 in 5 small business websites lack one.
Sites that aren't prompting customers to move forward are wasting one of their greatest assets.


Poor SEO and backlinks
A lot of visitors enter websites because they were listed in search results or there was a link in another article they were enjoying. If your content or landing page is unrelated to the original search term or the article that linked to your site, they will just navigate elsewhere.


Mobile
Sites that aren't optimised for mobile are effectively turning away everyone who uses the web on a mobile device – and that's a pretty big market.
Thanks to Google's updated mobile algorithm, if your site isn't responsive to mobile devices you'll likely drop in the organic search rankings. Can you afford to miss out on all those potential sales because your website isn't responsive?


Dull and duller
Your brand's personality matters, especially on your website and in your marketing collateral.
Potential customers will switch off if your website is dull and lacking in your personality. You need to connect with your customers and homogenous, unimaginative content is as bad as Lorum Ipsum placeholders.

Maximise your asset
A revamped website is a start but good design isn't just about the aesthetic and 'clean' code. It's about a marketing driven solution that is built upon traffic generation and sales conversions. Your website should be your greatest marketing tool, structured to deliver actionable sales enquiries.
Collateral and website professionally designed by Vividus will provide you with the wow factor needed to engage with the marketplace and enhance your reputation whilst your competitors continue to get lost amongst one another.


For more information or to start your web design project, contact Vividus on 07 3482 4262 or info@vividus.com.au.