Looking for a new social activity?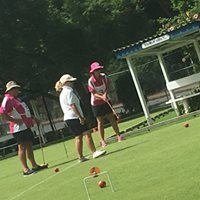 Redcliffe Gateball Club is looking for new members. Games are played every Wednesday & Saturday afternoon from 1 to 5 pm at the Bramble Bay Bowls Club. Membership is $20.00 and lawn fees are $5 per afternoon. For any further information please call Geoff on 0400 525 250 or 3284 4352.

Gateball is played with balls and a stick. The idea of the game is for teams of 2-5 to get as many balls through the 3 hops during a 30 minute game. The game is very tactical and we liken it to snooker on grass. The game is suitable for ages 8 - 100 and all levels of fitness.

www.facebook.com/RedcliffeGateballClub/

---
The information and offering contained in this message is provided by the BNCC as information only and has not been reviewed, endorsed or recommended by the BNCC in any way.
More Recent News
SAVE THE DATE!
The Brisbane North Chambers International Womens Day Long Lunch will be returning in 2024. Save the date, and watch this space for more details coming soon!! Read More
Tickets are now available for our signature Welcome drinks to kick off 2024. Read More
BNCC members are invited to join the VCC Christmas Party at VCC member pricing! Read More