Community Notice – Ryder's Road to Recovery
Ryder Cooper Withers arrived into the world in Brisbane on 2 June 2011. Within 24 hours he underwent his first of three bowel surgeries and within a week he would undergo his first but by no means his last heart surgery.
Ryder was born with a number of birth defects which included severe bowel issues, a missing set of ribs, mid thoracic hemi-vertebrae, clavicles not fused and some unusual shaped toes on his left foot as well as a duplex kidney and the most important and severe issue being heart problems.
On 24 May 2012 at 11 months of age Ryder underwent open heart surgery, despite not being at optimal weight, to correct the issues within the heart. All seemed okay however around 1 week post-surgery and 2 days before his 1st birthday his condition deteriorated rapidly and he was taken back to Intensive Care. 
He suffered a full cardiac arrest and had to be given emergency drugs and treatment to save him. His parents were told over the phone to come in urgently and prepare to say our goodbyes to him. After a further round of heart surgery to save their son's life an MRI would result in the doctors telling them that Ryder had also suffered a depletion of oxygen to the brain causing a large degree of atrophy (shrinkage) and from that brain damage should be expected.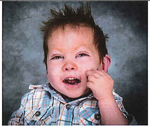 At age 2 he weighed 6kg and having recently turned 5 years old (2 June 2016) he is around 9kg. He is not able to talk clearly but is able to give basic sign-language and verbalises to let people know what he wants. Ryder is not yet walking independently and in the last 6 months has started with a new therapist who is making great headway with Ryder and his development. Ryder also undertakes hydrotherapy and physiotherapy however the family now has to fund this themselves and through a donation from 'The Investors Club (TIC)' in 2012.
Under the Betterstart program the family's funding for Ryder has been exhausted until the NDIS starts in Brisbane 1 July 2018, which is still 2 years away, apart from some small pockets of funding the family can tap into for certain circumstances only. The family want to keep up the momentum and give Ryder any therapy that will help him develop without the financial constraints.
His parents are hoping to raise a minimum of $20,000 which would provide them with some (but not all) of the costs they will need up until July 2018 when further government funding is available.
To learn more about Ryder's Road to recovery click here
Ryder has a Facebook page called Ryders Broken Heart or you can join the other 879 members and follow his progress at https://www.facebook.com/groups/407547672596744/
A Crowdfunding page has been set up with Ozcrowd Australia and the hyperlink to Ryders fundraising progress can be found at https://ozcrowd.com/campaign/2830
More Recent News
SAVE THE DATE!
The Brisbane North Chambers International Womens Day Long Lunch will be returning in 2024. Save the date, and watch this space for more details coming soon!! Read More
Tickets are now available for our signature Welcome drinks to kick off 2024. Read More
BNCC members are invited to join the VCC Christmas Party at VCC member pricing! Read More