International women's day 2017
International Women's Day is a global day celebrating the social, economic, cultural and political achievements of women. For International Women's Day 2017 we're being asked to #BeBoldForChange, to help forge a better working world - a more inclusive, gender equal world.
This event is open to all BNCC members and guests (men and women).
---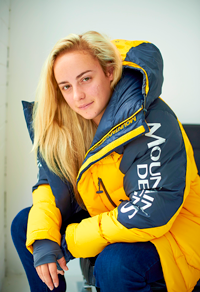 We are thrilled to have Alyssa Azar – the youngest Australian to climb the world's highest mountain – as our guest speaker.
Alyssa Azar – 20 year old Adventurer

Alyssa is one of Australia's most experienced young adventurers. She has taken on some amazing challenges and achieved some very lofty goals.
The fire burns deep inside to challenge herself further though as she has set her sights on the Seven Summits – the 7 highest mountains on the 7 continents.
At the age of 8 years old Alyssa became the youngest person to cross the Kokoda Track, a tough WW2 track in Papua New Guinea that saw 30,000 Australian and Japanese soldiers locked in battle for six months in 1942.
She then went on to trek into Mount Everest Base Camp at 10 years old; climb the highest 10 peaks in Australia at 12 years old; the highest mountain in Africa – Mt Kilimanjaro – at 14 years old.
It was then she set her heart on climbing Mount Everest. She has climbed in New Zealand, South America and Nepal since she was 15 years old and travelled to all of these countries on her own.
In 2014, at the age of 17 years, her first attempt to climb Mount Everest was stalled when an avalanche struck and killed 16 people. This is the worst single tragedy in the history of climbing the mountain
At the age of 18 years old Alyssa made a second attempt on Mount Everest in 2015 where 18 people were killed at Base Camp, now the single worst tragedy on the mountain, and a further 10,000 people were killed in Nepal due to a massive earthquake.
On the 21st May 2016 at 3:45am, Alyssa Azar became the youngest Australian to stand on the summit of Mount Everest. This was her third attempt and proves that she's willing to overcome any obstacles or challenges to achieve her desired goals.
Alyssa believes in setting big goals, making a plan and taking action no matter what personal or other obstacles present themselves.
Event Details
Wednesday, 8 March 2017
7.00am to 8.30am
Kedron-Wavell Services Club - Kittyhawk Room
21 Kittyhawk Drive, Chermside Qld 4032
Price
$50 Members
$70 Non-Members

More Recent News
SAVE THE DATE!
The Brisbane North Chambers International Womens Day Long Lunch will be returning in 2024. Save the date, and watch this space for more details coming soon!! Read More
SAVE THE DATE! Tickets will soon be available for our signature Welcome drinks to kick off 2024. Read More
BNCC members are invited to join the VCC Christmas Party at VCC member pricing! Read More