Co-working – the new normal?
The co-working phenomenon is taking off around the world as small businesses, particularly the self-employed, look for cost-effective alternatives to working from home.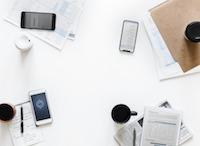 Co-working spaces are literally office premises which are shared between a number of businesses. Many offer a range of options such as hiring a desk for a day, a month or a year to more permanent arrangements involving a private office within a larger floor plan. Fees usually cover additional services such as access to meeting spaces, WIFI, printing and the use of tea and coffee facilities.
 These all-inclusive yet flexible arrangements are an attractive option for cost conscious small businesses and the number of people working in co-working spaces globally is projected to grow from 500,000 in 2015 to more than 5 million by 2022.
 Here in Brisbane new co-working spaces appear to be popping up every week. Names such as Little Tokyo Two, Studio 42, River City Labs and The Cove, will be familiar to business owners who've looked into the co-working option.
 Once the domain of technology starts-ups in trendy inner-city suburbs, co-working spaces are now reaching out into the suburbs, including the recently opened Wotso at Westfield Chermside and Northside Coworking on Toombul Road.
 Co-working might sound like the perfect small business solution, but beware, these spaces do come with a number of cons. Depending on how much you pay, you may not always get the space you're after. There's always the risk of being distracted in an open and potentially noisy office, plus there's the additional cost of transport and parking to consider if you're currently working from home.
As with most things in business, be sure to try before you buy. Thankfully, many co-working providers offer a FREE day pass, so you can check out their facilities before signing up to a paid arrangement.
Are you currently working in a shared office arrangement? The chamber is interested in hearing from and sharing the experiences of members who've taken up or are considering taking the co-working plunge. 
More Recent News
SAVE THE DATE!
The Brisbane North Chambers International Womens Day Long Lunch will be returning in 2024. Save the date, and watch this space for more details coming soon!! Read More
SAVE THE DATE! Tickets will soon be available for our signature Welcome drinks to kick off 2024. Read More
BNCC members are invited to join the VCC Christmas Party at VCC member pricing! Read More