Meet Margaret GOODY, AKYRA
Margaret Goody is the owner and director of HR firm, Akyra.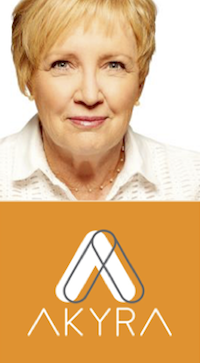 With a keen understanding of the contemporary workplace landscape, Margaret's firm specialises in the development and implementation of HR strategies for business.
She has worked in both the private and not-for-profit sectors and Margaret has particular expertise in workforce planning; employee engagement; recruitment and retention; employer branding, HR policies and processes; and performance management.
Margaret believes effective HR management strategies should help businesses to attract and retain the right people.
"Our approach at Akyra is designed to help you achieve your organisational goals.
"We combine practical, hands-on experience with the knowledge required to define, develop and implement effective HR practices for your business."
In addition to her work with Akyra, Margaret is a regular conference presenter; an alumni of the Australian Graduate School of Management, an accredited Gallup StrengthsFinder Coach, Fellow of the Australian Institute of Company Directors, and a Professional Member of the Australian Human Resources Institute.
If you'd like to discuss your business's HR needs please contact Margaret directly on 07 3204 8830, email margaret.goody@akyra.com.au or visit www.akyra.com.au
*** SPECIAL OFFER ***
HR BizBitz- Personalised HR manual now available!
Special Offer for Chamber Members Offer already on the BNCC site.
HR BizBitz is a program that generates tailored policies, procedures and forms for your business.
What is included?
A personalised HR manual In MS Word Format and PDF – you control it;
Documents you can start using TODAY;
Unlimited help desk support for your first 30 Days;
ALL updates for the first 180 days after your purchase
HR BizBitz gives you the right tools to:
Effectively set expectations for your staff
Establish great policies and procedures that work;
Effectively manage the disciplinary process
Cut down on the impact of social media in the workplace.
Akyra's HR BizBitz is now available for purchase... if you purchase HR BizBitz as a Chamber member, you will receive two free d-books Managing Redundancyand Employer Branding.
More Recent News
SAVE THE DATE!
The Brisbane North Chambers International Womens Day Long Lunch will be returning in 2024. Save the date, and watch this space for more details coming soon!! Read More
SAVE THE DATE! Tickets will soon be available for our signature Welcome drinks to kick off 2024. Read More
BNCC members are invited to join the VCC Christmas Party at VCC member pricing! Read More