Meet JACQUELINE NAGLE, SPEAKABLEYOU
Jacqueline Nagle is the voice and the driving force behind SpeakableYOU.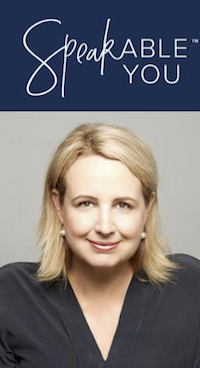 A self-confessed introvert, who for years shied away from public speaking, Jacqueline discovered a gift for presenting and is now sharing her secrets with anyone who has ever trembled at the thought of standing up in front of a crowd.
Across an extensive 20-year career Jacqueline has managed multi-million-dollar budgets, secured more than $20m in sales and built consulting businesses from start up to sale.
A trained speaker, communicator and negotiator, Jacqueline is now taking the lessons learnt from her success in business to help other leaders.
"At SpeakableYOU I work with managers and owners to show them how to shift how they speak, how they present, and how they pitch.
"Our programs are designed for anyone who is willing to do the work and is open to considering a different approach."
To find out more about SpeakableYOU please visit https://speakableyou.com or contact Jacqueline directly on 0434 212 059 or email connect@speakableyou.com
*** SPECIAL OFFER ***
50% off our "On Your Feet" online programme – exclusive pre-sale. 
This online programme will give participants the tools, tips and strategies needed to be able to pitch, speak and present from any stage, anywhere. 
More Recent News
SAVE THE DATE!
The Brisbane North Chambers International Womens Day Long Lunch will be returning in 2024. Save the date, and watch this space for more details coming soon!! Read More
SAVE THE DATE! Tickets will soon be available for our signature Welcome drinks to kick off 2024. Read More
BNCC members are invited to join the VCC Christmas Party at VCC member pricing! Read More