BUSINESS FORUM BACK ON THE NORTHSIDE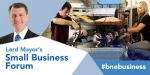 The Lord Mayor's Small Business Forum is returning to the Northside this August.

For anyone who missed out on last month's forum at Kedron Wavell, this is a great opportunity to hear from and ask questions of the Mayor in person.
Guest speaker will be Sam Hussey, CEO and Co-founder of Lightwave, an industry leader in experiential marketing.
Brisbane's Chief Digital Officer, Cat Matson, will also speak about 'How to Create Great Digital Content.'.
The forums offer facilitated networking and are a not-to-be-missed opportunity to make new business contacts.
Lord Mayor's Small Business Forum
Location: Pavilion at Albion
When: Wednesday 1 August, 5.45PM
Cost: FREE
Bookings: CLICK HERE.
More Recent News
SAVE THE DATE!
The Brisbane North Chambers International Womens Day Long Lunch will be returning in 2024. Save the date, and watch this space for more details coming soon!! Read More
SAVE THE DATE! Tickets will soon be available for our signature Welcome drinks to kick off 2024. Read More
BNCC members are invited to join the VCC Christmas Party at VCC member pricing! Read More