Meet ADAM LOMSARGIS, SENTINEL WEALTH
Adam Lomsargis is a wealth coach at Sentinel Wealth Partners.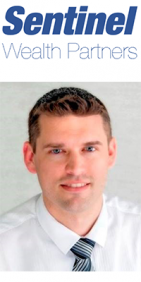 With 13 years' experience across personal finance, capital markets and financial planning, he helps his clients to create the best strategy to build and protect their assets.
Offering a commission-free approach, Adam is passionate about helping people to significantly boost their super for retirement.
"Australia has one of the most sophisticated superannuation industries of the developed world.
"Despite this, 80% of Australians will end up having to rely on either a full or part government pension when they retire.
"I aim to help people to find the most effective strategies to tackle this problem and build up their super assets."
*** SPECIAL OFFER***
Chambers members who might be looking for a better financial future can take advantage of a special offer from Sentinel Wealth for a complimentary review meeting valued at $220.

During this confidential & obligation free meeting Adam will review your finances and talk through the key options for improving your situation.
If you'd like to find out how Adam can disrupt your thinking and show you some tangible ways of boosting your wealth, contact him directly on 0438 820 937 or email adam@sentinelwealthpartners.com.au. For further information visit sentinelwealthpartners.com.au.

More Recent News
SAVE THE DATE!
The Brisbane North Chambers International Womens Day Long Lunch will be returning in 2024. Save the date, and watch this space for more details coming soon!! Read More
Tickets are now available for our signature Welcome drinks to kick off 2024. Read More
BNCC members are invited to join the VCC Christmas Party at VCC member pricing! Read More