Meet Martin Lewis, Orb Services
Martin Lewis is the Owner and Coach at Orb Services. His business specialises in providing coaching to small business owners and managers.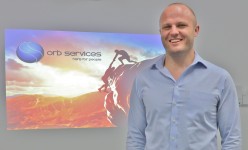 With a background in elite sport, Martin knows what it takes to win and succeed and is now using this experience to help others. Martin is particularly focused on helping small business, where he says his practical tips and proven strategies can go a long way to helping business owners to improve their work life balance.
"We've all heard the clichés about planning and strategy. Spend time on the business, not in it. Failing to plan is planning to fail. The list goes on. So why, when we know all of these things do we all struggle to implement them? Working with multiple businesses and running my own I understand the time constraints and demands of a business. It's easy to get bogged down in the little details."
"My approach helps business owners to gain more clarity around their business direction, to challenge current belief systems, and to embrace the technology which can improve their business. It means we see tangible results in days or weeks, not months."
In business Martin has extensive management experience across Civil Construction, Hospitality, Maintenance Planning and Indoor Skydiving!
His sporting achievements include being a junior Australian Representative for Rugby League as well as a QLD Golden Gloves winner and Australian Amateur Boxing championships finalist.
Outside of work Martin enjoys skydiving, travelling and wakeboarding. He currently has a special offer for BNCC members and if you'd like to speak with Martin directly please call 07 3435 1515 or visit his website for further information.
More Recent News
SAVE THE DATE!
The Brisbane North Chambers International Womens Day Long Lunch will be returning in 2024. Save the date, and watch this space for more details coming soon!! Read More
SAVE THE DATE! Tickets will soon be available for our signature Welcome drinks to kick off 2024. Read More
BNCC members are invited to join the VCC Christmas Party at VCC member pricing! Read More