Introducing UniFIEDAR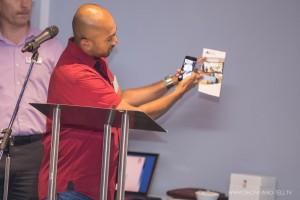 Augmented reality is rapidly moving from science fiction to real-world business applications, and one of the leaders in the field is Brisbane firm UnifiedAR.
With the quick scan of a phone UnifiedAR's technology instantly transforms traditional two-dimensional marketing platforms into dynamic and interactive 3D displays.
The technology is designed to help business better engage and interact with their customers by bringing printed materials to life.
BNCC's members were given a sneak peak of UnifiedAR in action at the recent September Night Owls event.
If you didn't make it along to Night Owls but would like to see augmented reality in action, simply download the UnifiedAR app and scan the front of the latest BNCC brochure. You'll be amazed at the transformation.
For further information visit www.unifiedar.com, call 07 3122 2958 or email contacts_us@unifiedar.com
More Recent News
SAVE THE DATE!
The Brisbane North Chambers International Womens Day Long Lunch will be returning in 2024. Save the date, and watch this space for more details coming soon!! Read More
Tickets are now available for our signature Welcome drinks to kick off 2024. Read More
BNCC members are invited to join the VCC Christmas Party at VCC member pricing! Read More