Introducing STEPHANIE PHILIPPOU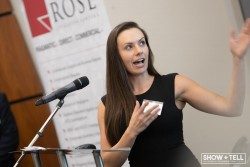 Stephanie Philippou is an Associate Solicitor at Rose Litigation Lawyers.
After graduating from the University of Edinburgh with a LLB in Law (Honours) in 2013, she moved to Australia in 2014 and was admitted to the Supreme Court of Queensland in May 2016.
At Rose Litigation Lawyers, Stephanie's day to day workload involves shareholder and partnership disputes; contract disputes;  as well as lease and property disputes.
She also handles professional negligence claims; contested estates; debt recovery; defamation;and corporate and personal insolvency.
Stephanie recently spoke at the chamber's Night Owls networking event on the topic of Queensland's new Labour Hire Licencing Laws. Her entertaining presentation sparked considerable debate with a number of questions from the floor about how the new amendments would impact members' businesses
Members can contact Stephanie at 07 3211 2922 or stephanie@roselitigation.com.au. For further information about Rose Litigation Lawyers please visit www.roselitigation.com.au


More Recent News
SAVE THE DATE!
The Brisbane North Chambers International Womens Day Long Lunch will be returning in 2024. Save the date, and watch this space for more details coming soon!! Read More
Tickets are now available for our signature Welcome drinks to kick off 2024. Read More
BNCC members are invited to join the VCC Christmas Party at VCC member pricing! Read More