LEARN FROM QUEENSLAND BUSINESS LEADERS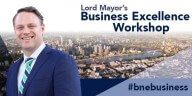 Brisbane City Council has announced a new Lord Mayor's Business Excellence Workshop at Broncos Leagues Club on 22 May.
The FREE workshop, delivered in partnership with Queensland Leaders, is an ideal networking and learning opportunity for BNCC members.
Attendees will hear from Queensland business leaders as they share their knowledge and personal experience on the topic of Growth, leadership and embracing technology.
Guest speakers include:
Stephen Beirne, CEO, Queensland Leaders
Dr Shari Read, QUT
Geoff Stewart, Director, Surety IT
Murray Saylor, Managing Director, Tagai Management Consultants.

Business Excellence Workshop
Wednesday 22 May
1pm – 5pm      
Broncos Leagues Club, 98 Fulcher Rd, Red Hill
Spaces limited, register in advance via Eventbrite.
More Recent News
SAVE THE DATE!
The Brisbane North Chambers International Womens Day Long Lunch will be returning in 2024. Save the date, and watch this space for more details coming soon!! Read More
Tickets are now available for our signature Welcome drinks to kick off 2024. Read More
BNCC members are invited to join the VCC Christmas Party at VCC member pricing! Read More