Introducing MILAN PavAsovic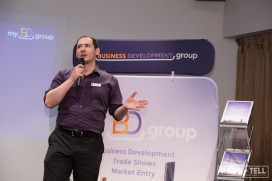 Milan Pavasovic is the owner and founder of myBDgroup (My Business Development Group Pty.Ltd), an outsourced business development services company.
After completing Science and Business degrees at the University of Queensland, Milan worked for a number of years in client services and business development roles.
His experience, working across industry from small businesses to large multinationals, enabled Milan to identify a number of common deficiencies in business development practices and strategies.
Milan's solution was to establish myBDgroup, a Brisbane-based company which works both domestically and internationally to assist other organisations with expansion and growth through a unique approach to business development and support services. 
 Away from his day job Milan is an active member of BNCC, assisting with a number of chamber events as well as recently joining the organisation's executive committee.
If you'd like contact Milan directly call 0466 352 017, email milan@mybdgroup.com.au or for further information visit www.mybdgroup.com.au

More Recent News
SAVE THE DATE!
The Brisbane North Chambers International Womens Day Long Lunch will be returning in 2024. Save the date, and watch this space for more details coming soon!! Read More
SAVE THE DATE! Tickets will soon be available for our signature Welcome drinks to kick off 2024. Read More
BNCC members are invited to join the VCC Christmas Party at VCC member pricing! Read More