2020... that's A Wrap!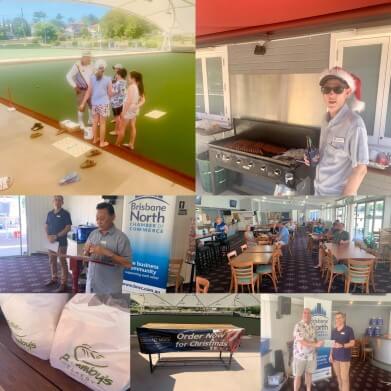 Bowling, food and fun in the sun marked BNCC's final get-together for 2020.
The Christmas Family Fun Day at Northern Suburbs Bowls Club was a chance for members and their families to come together in a relaxed setting after a difficult year.
The fun day provided a chance for members young and old to try their hand at bowling, many for the first time.  
The popular sausage sizzle was a big hit and thanks goes to local butcher Wavell Heights Gourmet Meats as well as the Brumby's at Shaw Road for supplying the meat and bread for the occasion.
The Family Fun Day was preceded by the chamber's 2020 Annual General Meeting. The AGM saw updates from President Simon Penrose and Treasurer Robin Joe Kong.
President Simon Penrose paid special tribute to the chamber's three outgoing Executive Committee members - Tameka Bramwell, Richard Froehlich and Milan Pavasovic.
"On behalf of all members I'd like to thank Tameka, Richard and Milan for their years of service, support for the chamber and the local business community."
The AGM saw the existing board reappointed into their roles with members advised that a call for new committee members would be made early in the new year alongside a revised and revitalised strategic direction for the chamber.
More Recent News
SAVE THE DATE!
The Brisbane North Chambers International Womens Day Long Lunch will be returning in 2024. Save the date, and watch this space for more details coming soon!! Read More
Tickets are now available for our signature Welcome drinks to kick off 2024. Read More
BNCC members are invited to join the VCC Christmas Party at VCC member pricing! Read More