The Business Of Teaching
At the end of each year Brisbane Nor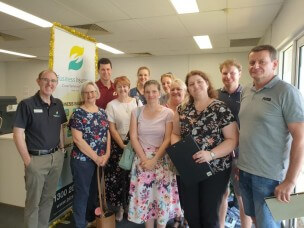 th Chamber of Commerce, supports teachers from northside State High Schools with on site professional development days.
The teachers are specialists in Vocational Education and Training and the industry visits provide valuable insights into current workplace practices. The experience ultimately helps to inform the teachers in their delivery of training and assessment in vocational courses. 
This year BNCC members Gwen Barbour from Storage King Eagle Farm and Aaron Macdonald of Business Insurance Cover Services hosted the teachers at their premises.
The one-hour sessions saw Gwen and Aaron sharing their business experience and expertise with the teachers from Earnshaw State College, Kedron SHS, Sandgate District SHS, Craigslea SHS and Mitchelton SHS. 
BNCC thanks Gwen and Aaron for giving their time as well as fellow member Colleen Hills from Earnshaw State College who enables the chamber to have this opportunity to connect with and support the local community each year.
More Recent News
SAVE THE DATE!
The Brisbane North Chambers International Womens Day Long Lunch will be returning in 2024. Save the date, and watch this space for more details coming soon!! Read More
Tickets are now available for our signature Welcome drinks to kick off 2024. Read More
BNCC members are invited to join the VCC Christmas Party at VCC member pricing! Read More