Introducing Tracje Cvetovski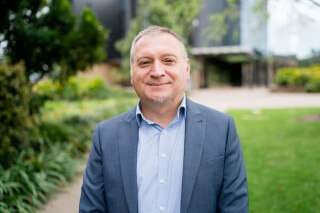 Dr Trajce Cvetkovski is a Senior Lecturer at Australian Catholic University. Specialising in Occupational Health and Safety Education, Trajce has practised as a barrister in Australia since 1996, and is also admitted as a solicitor in England and Wales. 

Before joining ACU, Dr Cvetkovski was an OHS/WHS prosecutor at Queensland's Office of Industrial Relations. 

Dr Cvetkovski has prosecuted several complex health and safety matters ranging from heat exhaustion, bullying, and electrical safety to reckless conduct. He has expertise in assessing actual as opposed to theoretical approaches to reasonably practicable initiatives in various workplace settings. 
Dr Cvetkovski has a particular interest in directors' duties and due diligence. His current research interests include corporate behaviour and regulatory compliance. Prior to working in government, Dr Cvetkovski worked in private practice.
Tracje recently gave a presentation to the chamber's monthly Night Owls networking evening on the topic of "Workplace Health and Safety & You."
The topic was a great interest, particularly amongst small business owners, generating plenty of discussion on the night. Dr Cvetovski has kindly made his presentation from the evening available here.***. 


*** Please note the contents of Dr Cvetovski should not be construed as legal advice. For further information on value added by OHS professional please speak directly with your respective business associations or contact the Australian Institute of Health and Safety.
More Recent News
SAVE THE DATE!
The Brisbane North Chambers International Womens Day Long Lunch will be returning in 2024. Save the date, and watch this space for more details coming soon!! Read More
Tickets are now available for our signature Welcome drinks to kick off 2024. Read More
BNCC members are invited to join the VCC Christmas Party at VCC member pricing! Read More