Tracking Digital Readiness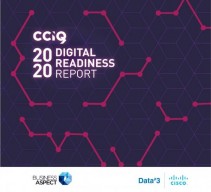 More than 50% of businesses are now fully in the cloud but most still spend less than 5% of their budgets on technology.
These are just some of the findings of the 2020 Digitlal Readiness Report which was recently released by the Chamber of Commerce and Industry Queensland (CCIQ).
CCIQ surveyed more than 300 businesses from around the state for the longitudinal study which looks at the challenges businesses face when dealing with technology.
Other key findings included the growth in social media use amongst businesses as well as an increase in the use of CRM systems.
At the same time the report revealed an overall drop in the confidence businesses have about using technology into the future.
For further information on the findings and to download the full report click here.
More Recent News
SAVE THE DATE!
The Brisbane North Chambers International Womens Day Long Lunch will be returning in 2024. Save the date, and watch this space for more details coming soon!! Read More
Tickets are now available for our signature Welcome drinks to kick off 2024. Read More
BNCC members are invited to join the VCC Christmas Party at VCC member pricing! Read More