$10k COVID Grants Open This Week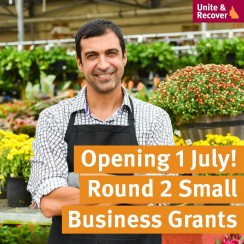 The State Government has extended its $10k COVID Adaption Grants Program with a second round of funding opening this week.
The program is worth $100 million and is designed to help small businesses highly impacted by COVID-19.
This latest round of grants has a significant regional emphasis with 50% of funds being targeted at businesses outside of South East Queensland.
Applicants must be employers, will need to be based in Queensland, have fewer than 20 staff and a payroll less than $1.3million. To test whether you can apply, the Government has developed an online eligibility tool.
Businesses can ask for grants ranging from $2,000 up to $10,000 with funding available for a range of initiatives including operating costs, financial and legal advice, marketing, training and capital expenses associated with COVID-19 recovery.
Click here for further information about the round two grants opening on 1 July.
More Recent News
SAVE THE DATE!
The Brisbane North Chambers International Womens Day Long Lunch will be returning in 2024. Save the date, and watch this space for more details coming soon!! Read More
Tickets are now available for our signature Welcome drinks to kick off 2024. Read More
BNCC members are invited to join the VCC Christmas Party at VCC member pricing! Read More