Award For Defence Trade Program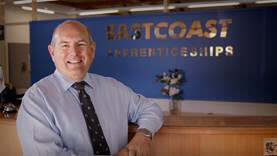 BNCC member East Coast Apprenticeships has won the Prime Minister's award for Excellence in Supporting Veterans' Employment.
The award recognises East Coast's Defence Trade Program which supports veterans and their families who are looking for a trade career.
East Coast CEO Alan Sparks spent 27 years in the Australian Army as an Infantry Officer.
Alan says veterans have an important contribution to make once they leave the service.
"We've got people here who have served the nation, who have made in many cases significant sacrifices, and it behoves us not to give them a hand out but certainly a hand up in that transition out of service life. It would be silly on everyone's part not to recognise that veterans have a continuing contribution to make."
East Coast Apprenticeships is one of Queensland's largest group training organisations. The Defence Trade Program offers tailored training and support to arm veterans with the necessary confidence and skills to enter the apprentice system and gain paid employment.
More Recent News
SAVE THE DATE!
The Brisbane North Chambers International Womens Day Long Lunch will be returning in 2024. Save the date, and watch this space for more details coming soon!! Read More
Tickets are now available for our signature Welcome drinks to kick off 2024. Read More
BNCC members are invited to join the VCC Christmas Party at VCC member pricing! Read More