Local As Queensland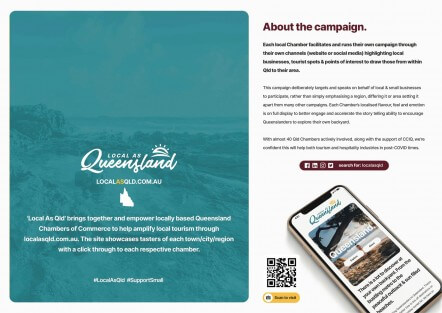 BNCC has joined forces with more than 40 chambers of commerce from across the state to promote the new Local As Queensland campaign.
Local As invites Queenslanders to visit Queensland.  As COVID-19 restrictions ease there's never been a better time to tick off destinations on your Queensland holiday bucket list. 
From Port Douglas to the Gold Coast the campaign highlights the unique attractions which make every region of Queensland a special place to visit.
Here at Brisbane North we've focused on our position as a gateway to South East Queensland. 
Our submission also showcases the abundance of local attractions including world class dining and accommodation as well as the numerous leisure activities on our doorstep such as golf, cinemas, indoor skydiving and the ever growing micro brewing scene.
Be sure to visit the campaign website; use the campaign hashtags #LocalAsQueensland #MeetALocal and #SupportSmall; and follow the latest updates on Facebook.
Let's go and see Queensland!
More Recent News
SAVE THE DATE!
The Brisbane North Chambers International Womens Day Long Lunch will be returning in 2024. Save the date, and watch this space for more details coming soon!! Read More
SAVE THE DATE! Tickets will soon be available for our signature Welcome drinks to kick off 2024. Read More
BNCC members are invited to join the VCC Christmas Party at VCC member pricing! Read More