Back Together For Movie Night Owls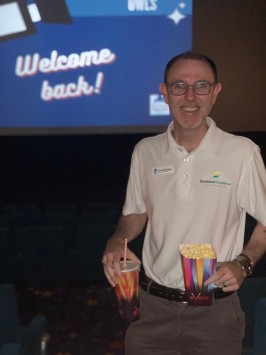 BNCC members recently celebrated the chamber's first in-person event since COVID began.
Movie Night Owls saw members catching up and coming together to enjoy the new Australian film, Rams.
The evening was organised by chamber member Event Cinemas at Chermside who added a very special touch by providing popcorn for everyone who attended.
Chamber President, Simon Penrose, said it was great to have in-person events back at BNCC
"Many of us hadn't seen each other in months and you could instantly tell we had plenty to catch up on.
"Online events and workshops have been a great innovation but nothing can replace seeing and talking with each other face to face."
With the success of our first Movie Night Owls, the chamber is looking at holding similar evenings as we look to roll out further COVID-safe events in 2021.
More Recent News
SAVE THE DATE!
The Brisbane North Chambers International Womens Day Long Lunch will be returning in 2024. Save the date, and watch this space for more details coming soon!! Read More
Tickets are now available for our signature Welcome drinks to kick off 2024. Read More
BNCC members are invited to join the VCC Christmas Party at VCC member pricing! Read More