Brisbane Business And Jobs Expo 2022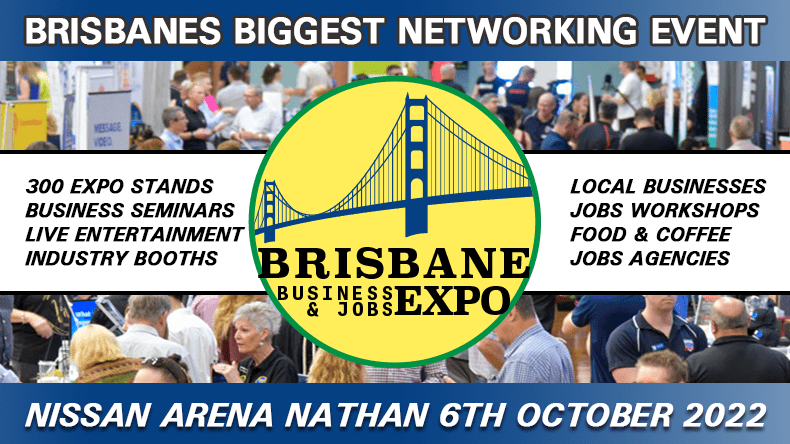 The Brisbane Business & Jobs Expo is back again for another year.
Thousands of visitors will converge on the Nissan Arena on Thursday 6 October for this not-to-be-missed showcase of local businesses.
Whether you're a business professional looking for more connections or just want to come along and support local business, this is the event for you.
Hundreds of businesses of all sizes and from across industry are already locked in for this year's event.
However, a limited number of spaces are still available if you'd like to secure a spot to exhibit at the expo.
Being an exhibitors enables you to present your brand to thousands of visitors on the day. In effect, the expo is a one-stop-shop where you can showcase your products or services to a captive audience all under one roof, all on the same day.
If this sounds like you, simply click here to receive your exhibitor info pack.
Alternatively if you just wish to attend the expo as a visitor, tickets are only $5, with 100% of proceeds going to Rotary community programs.
For enquiries contact event organiser Paula Brand at paulabrand@smallbusinessexpos.com.au
Please remember, if you do come to this year's expo be sure to stop by and say hi to the Brisbane North Chamber of Commerce stand.
Event details

2022 Brisbane Business and Jobs Expo
Thursday 6 October, 10am – 3:30pm
Nissan Arena, 590 Mains Road, Nathan

Brisbane North Chamber of Commerce is proud to be a partner and supporter of the 2022 Brisbane Business & Jobs Expo.
More Recent News
SAVE THE DATE!
The Brisbane North Chambers International Womens Day Long Lunch will be returning in 2024. Save the date, and watch this space for more details coming soon!! Read More
SAVE THE DATE! Tickets will soon be available for our signature Welcome drinks to kick off 2024. Read More
BNCC members are invited to join the VCC Christmas Party at VCC member pricing! Read More