Business Profits And Confidence Slump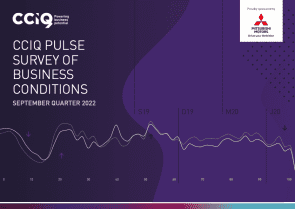 Business confidence continues to deteriorate, according to the Chamber of Commerce and Industry Queensland's (CCIQ) latest quarterly survey.
CCIQ's Pulse Survey of Business Conditions showed falling profitability amongst more than half of businesses (52%).
Despite improved sales, high operating costs are eroding margins, with respondents expecting the problem to worsen over the December quarter.
Labour force levels remain stagnant, with 56% of businesses saying their employment levels hadn't changed. Despite this, 69% of respondents said their labour costs had increased.
BNCC President, Simon Penrose, said the survey results are indicative of what businesses are reporting across Brisbane North.
"Typically, when we think about business confidence, we tend to think about sales. However, the confidence slump we're currently experiencing relates to business costs.
"Everyone's busy, sales are steady or strong, but at the end of the day, there's less money in the till.
"Whether it's power prices or wages, fuel or general supplies, every business owner I talk with is facing ever-increasing costs. That's the sting of inflation, and we need to see that easing in 2023 so our local businesses can grow."
You can download the latest CCIQ Pulse Survey report here.
More Recent News
SAVE THE DATE!
The Brisbane North Chambers International Womens Day Long Lunch will be returning in 2024. Save the date, and watch this space for more details coming soon!! Read More
Tickets are now available for our signature Welcome drinks to kick off 2024. Read More
BNCC members are invited to join the VCC Christmas Party at VCC member pricing! Read More