Go Local Grow Local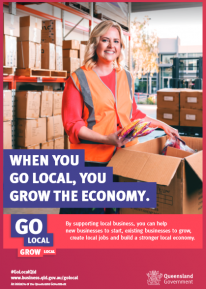 The State Government has launched an initiative to encourage Queenslanders to support their local businesses.

The campaign, 'Go Local Grow Local' is designed to help the state's businesses to promote their products and services; and ultimately to encourage business growth and create jobs.
The key message: 'shop locally'.

You may have seen the campaign's TV commercial, which seeks to demonstrate how shopping locally can help small businesses to grow.

Late last month the State Government held its first Go Local Summit, bringing together chambers of commerce from across the state to promote the benefits of spending locally.
The summit included an update on the State Government's Buy Queensland strategy and outlined the resources available under the 'Go Local Grow Local' campaign including an advertising toolkit available to the state's more than 400,000 small businesses.
The toolkit's resources include window stickers, post-cards, social media tools as well as audio and video files.

The State Government is also encouraging small businesses to use the #GoLocalQld hashtag to share and like Go Local stories on social media.

More Recent News
SAVE THE DATE!
The Brisbane North Chambers International Womens Day Long Lunch will be returning in 2024. Save the date, and watch this space for more details coming soon!! Read More
Tickets are now available for our signature Welcome drinks to kick off 2024. Read More
BNCC members are invited to join the VCC Christmas Party at VCC member pricing! Read More