Grants open for small businesses looking to grow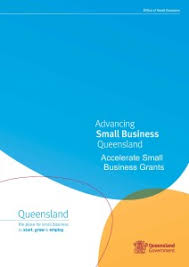 The State Government has recently opened applications for the second round of the $3 million Accelerate Small Business Grants program.

The program is targeted at businesses which have the potential to achieve high-growth over the next two years and provides funding for expertise which can help business to achieve that growth.
High-growth is defined by the government as a 20% increase in turnover or employment.
Up to $10,000 of matched funding is available for a business looking to engage an advisory board or independent advisor.
Eligibility requirements include a minimum 3-year trading period, at least $500k annual turnover and fewer than 20 employees.
In addition, applicants must have a business plan in place, as well as the capacity to access finance to fund the growth of their business.
Further details about the program, including guidelines and how to apply, can be found here.

More Recent News
SAVE THE DATE!
The Brisbane North Chambers International Womens Day Long Lunch will be returning in 2024. Save the date, and watch this space for more details coming soon!! Read More
SAVE THE DATE! Tickets will soon be available for our signature Welcome drinks to kick off 2024. Read More
BNCC members are invited to join the VCC Christmas Party at VCC member pricing! Read More