September Featured Member
Meet BNCC members Jacinta O'Brien and Liam Richardson of Australian Red Cross Blood Services, a division of the Australian Red Cross. Their important work is only possible through the incredible donations of over half a million unpaid voluntary donors.
The Australian Red Cross Blood Service is responsible for the collection and distribution of all blood products across Australia. We operate Donor Centres and Mobile Donor Centres (collection vans) all across the country, collect non-remunerated blood products from our loyal and special donors, and then distribute the product to hospitals to be used for patients in need.
One in three Australians will require blood products sometime in their lifetime, yet only 1 in 30 people donate.
In order to combat low donation rates and to find our much-needed new donors, the Blood Service has created the Red25 program, which encourages corporate and community groups to save lives together. 
As well as helping save the lives of patients, donating blood as part of an organisation encourages camaraderie, boosts morale, and can help you achieve Corporate social responsibility (CSR) metrics.
We encourage our donors to post about their experience on social media, and also encourage organisations to post the number of donations and lives that have been saved.By signing up to the Red25 program, you'll receive marketing materials that help encourage your staff to donate, ideas on how to market yourselves as blood donors, and the Community Relations Officer in your region can be scheduled to present to your staff and talk about the importance of blood donation. The Community Relations Officer in your region can also help you find the nearest centre, and if you'd like, you can even book a group donation appointment so your colleagues can visit the centre together. Of course, you don't need to donate as part of a group; as long as your colleagues are registered to your Red25 group, any donation they make anywhere in Australia will count toward your tally.
Unlike other charities or not-for-profits, we do not ask for financial contributions from the public. This sets us as a distinct alternative to old-fashioned fundraising drives. 
We have a wide range of businesses on board, from the big four banks, Government departments and major consulting firms, to churches and community groups, to schools, and small businesses. 
If you're interested in joining up, or getting more information, there are two Community Relations Officers in North Brisbane.Jacinta O'Brien has recently been appointed as the Community Relations Officer for the Chermside donor centre, 1/831 Gympie Road, Chermside, in the Quest building. Looking for all types of groups in the Chermside area and surrounds.
Liam Richardson is based at Strathpine, and looks after the Mobile Donor Centres in North and West Brisbane. As well as the Strathpine Donor Centre at 349 Gympie Road, there are two Mobile Donor Centres that visit North and West Brisbane, from Mt Ommaney to Bribie Island and everywhere in between. There's sure to be a spot we visit close to your business!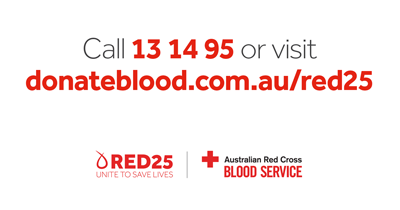 For more information on opening hours, locations, and eligibility criteria, please visit donateblood.com.au.

Jacinta O'Brien
JacOBrien@redcrossblood.org.au
07 3624 0407 | 0407 392 365
Liam Richardson
lrichardson@redcrossblood.org.au
07 3481 5908 | 0402 169 000   
More Recent News
SAVE THE DATE!
The Brisbane North Chambers International Womens Day Long Lunch will be returning in 2024. Save the date, and watch this space for more details coming soon!! Read More
Tickets are now available for our signature Welcome drinks to kick off 2024. Read More
BNCC members are invited to join the VCC Christmas Party at VCC member pricing! Read More