Show your support and join us for our Annual BNCC Pink Breakfast - 12 October, with guest speakers Lyn & Liv Cusick
Upon learning of her breast cancer diagnosis in 2013, Lyn had so many questions and concerns rushing through her mind. One of the biggest was … "how do I tell my children?". You are sure to laugh (and maybe even cry) as you travel on the roller-coaster journey with this high-spirited mother daughter team, hearing from both of them about how the breast cancer ride affected their relationship. The special bond between this mother and daughter is unquestionable.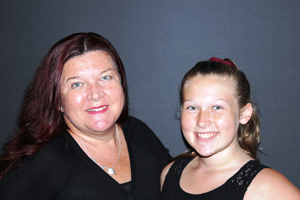 Lyn Cusick is a Brisbane native; born and raised in Brisbane's beautiful north. After completing high school and spending a decade working at a local accounting firm she took a sabbatical and travelled abroad where she met her husband, settled in the USA and had two children.
During her 14 years in America she studied, became a special needs teacher and worked at an Elementary School in a diverse region of Southern California.

Upon her return to Australia in 2007 she took a different direction and dove into the world of real estate where she currently is enjoying her role as an executive assistant at Raine & Horne Commercial.
Liv Cusick is 13 years old and came to live in Australia as a 4 year old. She is in her first year of high school at St John Fisher College and loves the Brisbane Broncos, Justin Bieber, spending time with her friends and playing netball. She hopes to be a lawyer or vet when she finishes school.
This event is proudly sponsored by BNCC member Maureen Cuskelly, Michael Hill ChermsideAll raffle proceeds will go to National Breast Cancer Foundation.

More Recent News
SAVE THE DATE!
The Brisbane North Chambers International Womens Day Long Lunch will be returning in 2024. Save the date, and watch this space for more details coming soon!! Read More
SAVE THE DATE! Tickets will soon be available for our signature Welcome drinks to kick off 2024. Read More
BNCC members are invited to join the VCC Christmas Party at VCC member pricing! Read More