AGM – Get Involved
Next month's Night Owls event will also include the Chamber's Annual General Meeting.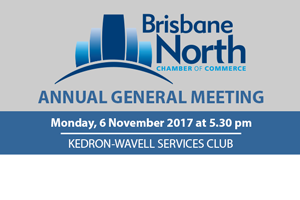 Official notice of the meeting can be found here.
The AGM agenda will include a briefing for members on the chamber's achievements over the past year as well as an update on the many exciting initiatives BNCC has planned for the next 12 months.

Members can also participate by helping to select the new Executive Committee.

Half the current Executive Committee must retire from office at the AGM. However, these members are eligible, upon nomination, for re-election.

Continuing committee members are:

Dan Buzer, Richard Froehlich, Jo Hassan, Andrew Konefal

The committee would also like to acknowledge the hard work of our outgoing members:

Jason Borody, Vividus and Denis Keating, Everest Resources.

Eight committee positions are open for election at the AGM and the following nominations have been received.

Click here for the list of nominees and their profiles.

Finally, if you can't make the meeting, there's an opportunity to nominate a proxy to vote on your behalf. You can find the proxy form here.
More Recent News
SAVE THE DATE!
The Brisbane North Chambers International Womens Day Long Lunch will be returning in 2024. Save the date, and watch this space for more details coming soon!! Read More
SAVE THE DATE! Tickets will soon be available for our signature Welcome drinks to kick off 2024. Read More
BNCC members are invited to join the VCC Christmas Party at VCC member pricing! Read More